Hello Christmas...
Another great Christmas Festival Weekend in our Town!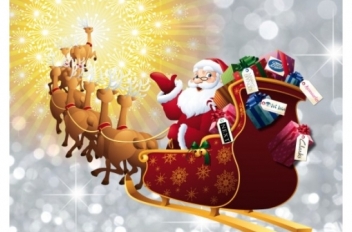 A weekend of fun and laughter begins the Town's count-down to Christmas on the 23rd and 24th November. There'll be entertainment on stage in the Orchards throughout the two days and, of course, the arrival of Father Christmas on Saturday afternoon when he joins the Town Mayor in the grand procession.
The very best of our local talent, including marching bands, school choirs and bands, singers, dancing, martial arts and magic will be performing and, once Father Christmas has turned on the Town's Xmas lights, there'll be a wonderful firework display, courtesy of the Town Council, in Victoria Park on Saturday evening.
A 100+ massed choir from St. Wilfrid's, St. Joseph's & Lindfield Primary Academy begin the festivities at 10.30 am on Saturday, followed by Marco the Magician, the Adur Concert Band and the combined choirs of Northlands Wood and Warden Park Primary on stage to welcome in the season of good cheer. Our very own 'Tina Turner', Cylvian, will be on stage at 12.45 pm to sing in Christmas, followed by the Sussex Kings of Harmony & Sussex A Cappella, the four part harmony choruses singing a selection of songs.
The entertainment continues nonstop! More magic shows, a fun photo booth, our lovely Tania singing, the Big Band, together with the Carey School of Irish Dancing and Josefa and her amazing Spanish dancers AND, of course, the arrival of Father Christmas with his elves and live reindeer AND some very special friends in the form of Mickey and Minnie Mouse, Donald & Daisy Duck and Pluto too!
The Grand Procession, led by Father Christmas and the Mayor in the sleigh (pulled by real reindeer), will begin just after 4.30pm, with bands, our Disney friends, Girl Guides, and Spanish Dancing girls, before the Town's Christmas Lights are switched on at 5.00pm by the Mayor and our lovely Middy Editor, Gina Stainer, to mark the proper beginning of Christmas! There'll also be a fireworks display in Victoria Park, courtesy of our Town Council, to round off a perfect day.
And, because Haywards Heath is so special, Father Christmas is coming back for the following four Saturdays, right up to Christmas, when he'll be joined by singers, the Ditchling Morris Dancers and, of course, carol singers too.
Orchards Manager, Nicola Bird, says: "I'm overwhelmed each year at the generosity of our amazing friends who give of their talents and time to bring so much happiness to us; our Christmas Festival is to say a big Thank You to all for supporting their Town and Shopping Centre – and it's such great fun!"