Christmas Festival Weekend!
Christmas dreams come true at the Orchards...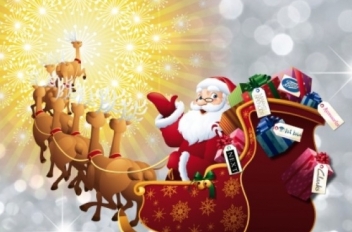 We all have dreams of our perfect Christmas, when there's joy and laughter and lots of gifts from our nearest and dearest, so come and begin the happiness at our Haywards Heath Christmas Festival Weekend, right here in the centre of Town, on 24th and 25th November!
The fun begins at 11.00 am on Saturday with the Adur Concert Band and the combined choirs of Northlands Wood and Warden Park Primary on stage to welcome in the season of good cheer. Top Bananas, our stilt-walking jazz musicians, will be there to make you laugh, while the amazing Dance with Emily troupe and our lovely Josefa and her Spanish Dancers will definitely get you dancing in the street. We're also welcoming a new talent, Becca Huggett, so watch out as she's set to take the world by storm.
A marching band, together with 100+ choir from St. Wilfrid's, St. Joseph's and Lindfield Primary, will welcome Father Christmas to our Town who, with his elves and live reindeer, will arrive with Mickey and Minnie Mouse AND Donald & Daisy Duck too!
The Grand Procession, led by Father Christmas and the Mayor in the sleigh (pulled by real reindeer), will begin just after 4.30pm, with our local Girl Guides joining with bright lanterns, our Disney friends, dancers and Spanish Dancing girls, before the Town's Christmas Lights are switched on at 5.00pm by the Mayor and our lovely Middy Editor, Gina Stainer, to mark the proper beginning of Christmas! There'll also be a fireworks display in Victoria Park, courtesy of our Town Council, to round off a perfect day.
BUT, we all know Christmas isn't just one day, so Santa will be back on Sunday, and the entertainment and fun will just go on. The amazing Oathall Jazz Band will begin the fun at 11.30am, followed by the Mid Sussex Band, Ariel Drama Academy and the legendary Ensemble Reza.
And, because our Town is so special, Father Christmas is coming back on the three following Saturdays, when he'll be joined by carol singers and, on Saturday 8th, Lindsay's Animal School, when you can meet, cuddle, learn about and feed some new friends. Just before the 'great day', on Saturday 22nd December, we're also welcoming the Ditchling Morris Men for a very special treat!
"Christmas is truly a time for dreams to come true" says Nicola Bird, Orchards Manager. "A time for family and friendship as well as for giving and receiving gifts. We're so lucky, here in The Orchards, to have so many friends who give their talents to bring joy and happiness to so our community. So make your dreams come true and join in the fun to make this Christmas just amazing!"