Primary Schools Set To Work For Town's Xmas Card Competition!
Title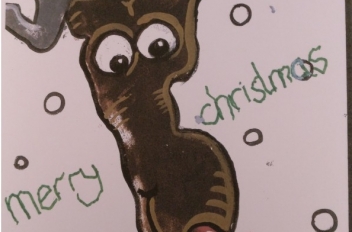 All the Town's Primary children are hard at work creating wonderful designs for our Town's Christmas Card Competition, the best of which will be displayed in The Orchards from the last week in October and judged at an Award Ceremony set for Monday 19th November. There'll be prizes for the winners in each age group and the overall winner, as last year, will be the official Christmas card for The Orchards Shopping Centre.
Children from St. Joseph's, St. Wilfrid's, Warden Park Primary, Harlands, Northland's Wood and Bolnore are all hard at work designing their perfect Christmas 'Greetings' within three categories: Early Years (ages four and five), Key Stage One (ages five to seven) and Key Stage Two (ages eight to 11).
Cllr Jim Knight, the Town Mayor, and Collingwood & Batchelor Manager, Katie Heath, will be in the Orchards in the week beginning 12th November to judge the entries – and, more importantly, of course, hand out awards and prizes on the 19th at 12.30 pm.
Orchards Manager, Nicola Bird, says: "We've so much talent here in our Town, I've been amazed at the high standard of creativity and so proud to have the winning entry as our annual Christmas card. I'm so looking forward to this year and all the excitement of the Awards, followed by Santa Claus arriving the next weekend to help switch on the Town's Christmas Lights – it truly is the best time of the year!"