A Free Day Of Fun & Laughter!
Having fun & raising funds for local children
Transforming Tomorrow!
The Orchards' annual Fun Day to raise funds for local children is set for Saturday 18th May, with a truly packed programme of entertainment and games for young and old alike so it's hoped we'll top the amazing £4,000 given to Great Ormond Sreet last year. This year, with the support of Malcolm Thorpe, a committed local resident, we're raising funds for Save the Children in its Centenary Year.
The day will begin at 10.00 am, when our Town Mayor will open the event ahead of St. Wilfrid's, St. Joseph's & Lindfield school choirs raising the roof with music. Throughout the day, there'll be the incredible UK Garrison, a Kiddies Workshop, Disco Dome and Pony Rides from 11.30 – 1.30 pm.
This year, too, we have the Carey School of Irish Dancing as well as Spanish Dancing with Josefa and, to keep us all on our toes, there'll be Popsteps and Swoove, with Becky and Esther, respectively, to make sure we're all just that little bit fitter and healthier by the end of the day.
During the day, there'll also be a Martial Arts performance by students of the White Crane Academy Dance and the Dance with Emily troupe will be astounding us with a new performance. Our wonderful friends at In Choir will be back and, as a special treat, the Adur Concert Band will be playing for us to make the day very special indeed.
Orchards Manager, Nicola Bird, is astounded by the generosity of everyone: "I just love our Fun Day each year and can't get over just how many wonderful people have given their time and talent this year to come and help us raise funds for Save the Children; it makes us feel humble an very very lucky that we have such a fantastic community here in our Town."
The Mayor is looking forward to having some fun too: "I'm not sure I'll be joining in the tap dancing but Martial Arts has always fascinated me so I'm hoping to learn a little – as well, of course, as trying out Spanish Dancing! Since its beginning in May 1919 to help fight famine after World War 1, Save the Children has done so much for so many and I'm delighted the Orchards has chosen them as their charity this year."
Who's In The Market Saturday 18th September? **Quality Fruits will be trading from 08:00 to 16:00 from Monday through Saturday until further notice** For all market & promotional enquiries, please contact the Centre Management Team on 01444 410620.
---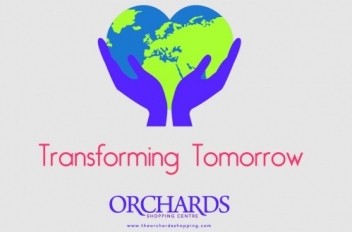 The next six months...
September
No events
October
No events
January
No events
February
No events