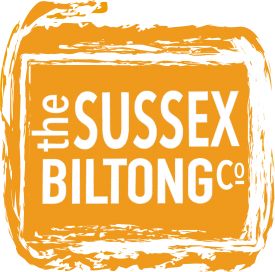 Sussex Biltong Co.
Unit H The Orchards Shopping Centre Haywards Heath, West Sussex,RH16 3TH
07815 886576
info@sussex-biltong.co.uk
Welcome to Sussex Biltong Co.
Biltong is a cured meat developed by the Afrikaner trekkers of South Africa as a way of preserving meat for leaner times which also turned out to be a delicious snack. It is extremely high in protein, up to 67%, and because the curing process is low temperature the protein is not denatured. Our biltong is hand made by Craig, our biltong master. He learned to make biltong in the Zambezi Valley of Zimbabwe and has been making biltong using his secret blend of herbs and spices for 30 years. Healthy, delicious and value for money with each 100g of biltong being made from almost 200g of meat, our fine biltong is the snack of choice for those in the know.
---
---