Local Schools' Xmas Card Competition
The bigger, better Schools' X-Factor...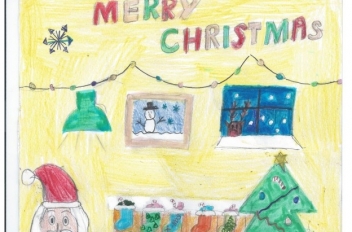 Following the success of St. Joseph's Primary School Christmas Card Competition in the Town last year, St. Wilfrid's and Warden Park Primary have joined in for this year's 'Xmas Card Factor'!
The children have all been hard at work designing their perfect Christmas 'Greetings', which will be displayed in The Orchards from the beginning of November. Once again, Town Mayor Sujan Wickremaratchi, and M&S Manager, Jan Hunford, will be in the Orchards in the week beginning 7thNovember to judge the entries – and, more importantly, of course, hand out awards and prizes.
There will be three categories this year: Early Years (ages four and five), Key Stage One (ages five to seven) and Key Stage Two (ages eight to 11). And to thank them for all their hard work and creativity, Orchards' Manager Nicola Bird is donating high street vouchers worth £25 and £10 to the winners and runners-up from each category. Not only that, but the overall winner's design will become the official Orchards' 2017 Christmas Card and receive a £50 voucher!
Mayor, Cllr Sujan Wickremaratchi, is delighted that more schools are joining in: "It's great to know our schools are so much at the heart of our community. And last year's design standard will be hard to match, so I'm very much looking forward to seeing them – but not, however, to making the decision, as it was so difficult in 2015!"
Orchards Manager Nicola Bird adds: "Christmas is all about sharing and giving, and the hard work and talent freely given by all the children makes a fitting start to our Town's festive season. And I can't wait to see the winning design of our 2016 Christmas card!"
More stories