Wishes & Dreams Come True At Xmas
Haywards Heath's Christmas Festival Weekend!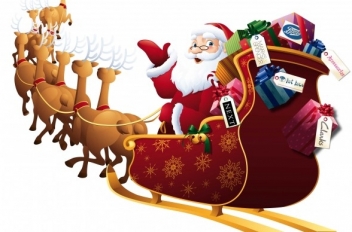 Are you dreaming of Santa visiting with his reindeer and elves? Of cuddling a warm and woolly alpaca? Of singing and dancing round the Christmas tree and lots and LOTS of presents, glitter and fun? Well, all this – and more– can be yours at Haywards Heath Christmas Festival in The Orchards on 26th and 27th November this year.
Father Christmas, with his elves and live reindeer, will be arriving on Saturday afternoon BUT from 11.00 am that day until 3.00 pm on Sunday, there'll be non-stop entertainment, laughs, singing, dancing and everything you've ever wished for – and who better to enjoy it with than Mickey and Minnie Mouse and two friendly alpacas to keep us warm?
The amazing Rock Choir will begin the festivities on Saturday and the fun continues all day with 'Mr Piano' Matt Black and Keith, our stilt-walking jazz musicians, Top Bananas, Rok Skool, local bands and school choirs. The Grand Procession, led by Father Christmas and our Mayor in the sleigh, will begin just after 4.30pm, before the Town's Christmas Lights are all switched on at 5.00pm, kicking off the countdown to Christmas proper with a Grand Firework Display in Victoria Park, courtesy of the Town Council!
And as if that's not enough, the fun continues on Sunday too! Father Christmas and his elves will be back in their grotto so that children (and adults too) can do some 'elfies'. And at 11.00am, the combined 100-strong St. Wilfrid's and Lindfield Primary Schools' Choir will set the scene for another wonderful day of entertainment, including Spanish Dancing, a Glee Club, the In Choir, the magnificent Ruwach Church Choir and our very own Harlands School Choir to send us all home singing our merry hearts out.
While that may end the Festival Weekend itself, it won't stop Father Christmas coming back to see us again. He'll be returning to his grotto in The Orchard on the three following Saturdays – the 3rd, 10th and 17th December and there's a special Christmas 'Petting Zoo' coming to visit us on the last Saturday as well as carol singers.
"We all dream about a perfect Christmas and wish for lots of things," says Orchards Manager, Nicola Bird: "And although we can't promise all your dreams will come true, the amazing Haywards Heath spirit of friendship and fun always makes our Festival such a very special start to Christmas!"
More stories