Lalaloopsy Land Comes To Town!
Bea Spells-a-Lot visits The Orchards...
Bea Spells-a-Lot is the smartest and most well-read resident of Lalaloopsy Land. She owns the largest collection of books in her own personal library. Whenever her friends need information, Bea is the girl with the right book for the job. She acts as Lalaloopsy Land's very own teacher and loves to educate the Littles. Bea is the older sister of little Specs Reads-a-Lot. Her name is a pun on the term "spelling bee", which means she is the most knowledgeable girl in Town.
Bea Spells-a-Lot will be in The Orchards between 10.00 am and 3.00 pm. on Saturday 12th August!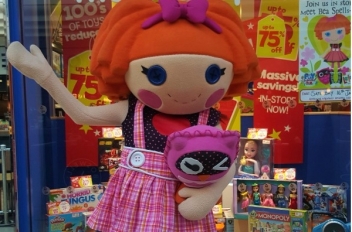 September 2018
No events
October 2018
No events
December 2018
No events
January 2019
No events
February 2019
No events
March 2019
No events